DISNEY - TOY STORY 4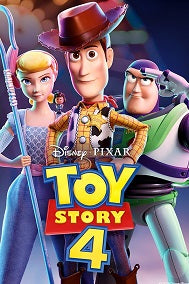 After the events of Toy Story 2 and before Toy Story 3, Woody and Bo Peep rescue Andy's remote control car, RC, from being washed away in a storm. Moments later, Bo Peep and her lamp are donated to a new owner. A distraught Woody considers coming with her, but in the end decides his duty is to stay with Andy.
Nine years later, after a college-bound Andy has donated his toys to Bonnie, Woody struggles to adapt as the toys in Bonnie's room already have a leader: Dolly. Bonnie also shows little interest in playing with him. Woody still remains convinced Bonnie must need him, and sneaks into her backpack the day of her kindergarten orientation. When another child steals Bonnie's art supplies, Woody gathers objects from the trash and leaves them on Bonnie's table. Bonnie creates a doll from a spork and some other odds & ends, naming him Forky. Forky comes to life, but suffers an existential crisis and keeps trying to jump back into the trash. As Forky quickly becomes Bonnie's new favorite toy, Woody repeatedly has to stop him from throwing himself away.