Nerf RIVAL in AUSTRALIA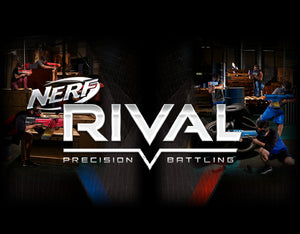 **** PLEASE NOTE : NERF RIVAL IS EXTREMELY HARD TO GET ACROSS MOST LINES - DUE TO COVID 19 - THERE IS MAJOR SUPPLY SHORTAGES AND DELAYS IN GETTING STOCK WE ARE BELIEVING IT WILL GET BETTER CLOSER TO CHRISTMAS - PLEASE USE THE "NOTIFY ME BUTTON" BELOW THE LISTING YOU ARE AFTER TO BE NOTIFIED WHEN BACK IN STOCK, THANKYOU"
OzToyStore is proud to be offering the top tier, top of the nerf range NERF RIVAL series in australia!
What sets Nerf Rival above and beyond every other nerf range toy, is the velocity and accuracy of the nerf rival ammo. Shooting at 30meters per second, they are fast enough to not be influenced by the wind, but not too fast to cause pain (wear a face mask in battle to be safe though). For me its the closest thing to paintball without the mess and pain factor.
Nerf Rival brings you So much fun to be had for any 14+ teenager (supervised) or adult ! Whether you are shooting aluminium cans in the background, or playing capture the fort, there is untold hours of play time, as you battle it out, in a fun safe environment. 
******PLEASE NOTE******
These are very powerful, when making your purchase of nerf rival blasters, any 14+ teenager must be supervised when using these. As you need to be an adult to actually make the purchase, the onus falls on the adult to make sure these are used in a safe environment - OzToyStore management.